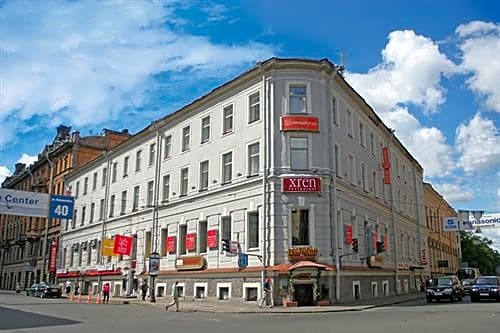 The 5th Corner Hotel is a 3-star hotel located in central St Petersburg, just ten minutes away from Nevsky Prospekt and easily within walking range of the city's lively business and cultural districts. The Vladimirskaya and Dostoevskaya metro stations are both very close to the hotel.

Each of the 49 comfortable guestrooms of the 5th Corner enjoys a warm, contemporary-style décor. All are appointed with stylish bathrooms and air conditioning. In addition, wireless internet access is available. Guests can also enjoy a delicious breakfast served every morning.

Furthermore, after an active day of sightseeing or meetings, guests of the 5th Corner Hotel can enjoy contemporary fusion cuisine at the in-house restaurant. Whether travelling for business or leisure, the 5th Corner Hotel is the perfect base from which to discover the magic of St Petersburg.
予約する方法
5th Corner Hotelで予約するのが簡単で安全でございます。ご希望の日付を選択します。そして、フォームを送信するために「料金を確認し」というボタンをクリックします。 客室タイプと料金はお宅の画面に戻った後で、画面の中央にある部屋の情報を読むと画面の右側にある「予約する」というボタンをクリックすることによって希望の料金を選択することができます。希望の客室タイプを選択した後で、「ご予約を完了」というフォームに転送されます。その時に「滞在の詳細」を確認して、「ゲストの詳細」という部分の空欄でご自分の詳細のことを書きます。ご自分の名前とメールアドレスが正しく入力されていることを確認してください。 すべての重要な情報を記入した後で、「ご予約を完了」というボタンをクリックしてください。ご自分のセキュリティを確保するために、私たちがクレジットカード番号を暗号化し、非使用可能な形式にエンコードする安全なコマースサーバーを使います。
地域情報
空港

St. Petersburg, Russia (LED-Pulkovo)

- 9.20 mi

St. Petersburg, Russia (RVH-Rzhevka)

- 9.21 mi

ミュージアム

Arctic and Antarctic Museum

- 0.43 mi

Anna Akhmatova Literary and Memorial Museum

- 0.69 mi

State Russian Museum

- 0.91 mi